have been actively involved in the live action role playing (larp) field since the mid-1980s, creating and running over 30 larp events, writing and editing multiple online and print publications about larp (some peer reviewed), and giving talks and workshops about role-playing at conventions such as San Diego Comic-Con, Games for Change, UCLA, and the New York Film Academy (Burbank branch).
With the boom in escape rooms and experiential entertainment, they parlayed their larp expertise into the immersive theater realm starting with Fallen Stars at the Charity Sale, a traditional stage theater adaptation of a Nordic larp, at the 2017 Hollywood Fringe Festival.
After the success of their 2018 original ENCORE! Award-winning Hollywood Fringe Festival production of One Last Thing Before You Go, they expanded it into Give Up the Ghost and subsequently formed SDF in 2019.
The name says it all—they make disasters fun!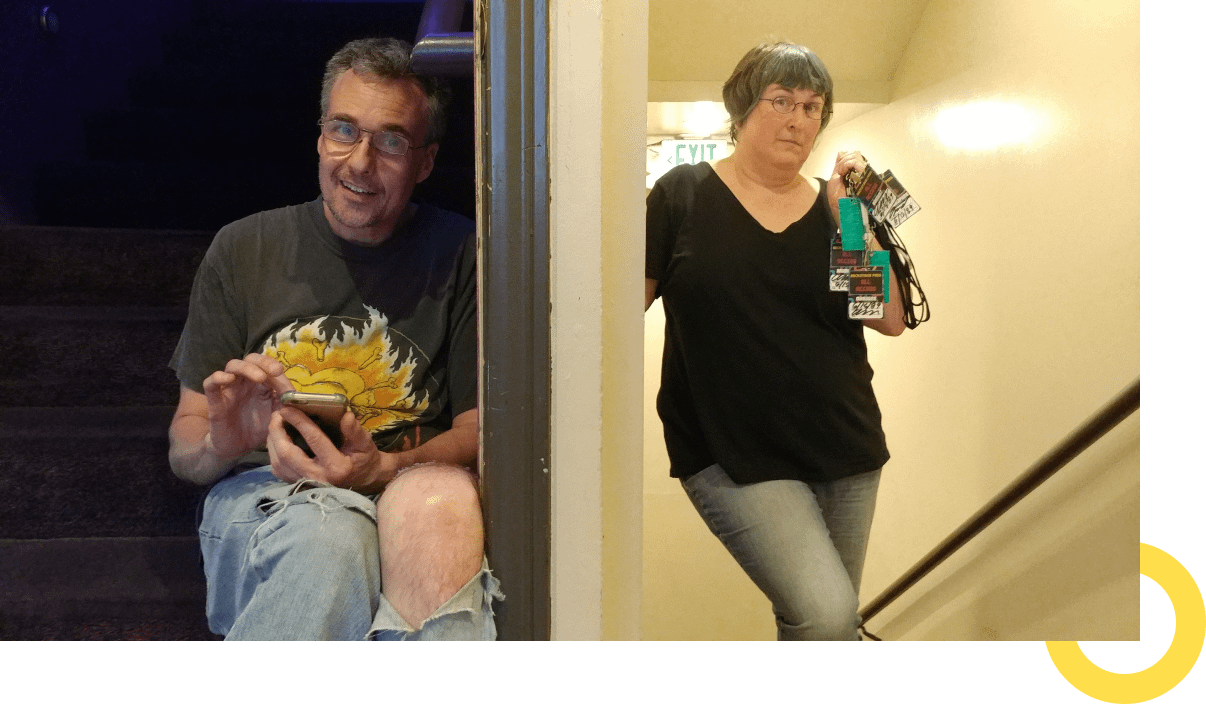 Aaron has been using larps for classroom education since 2011 and teaches both game design and core subjects through role-playing at public, charter, private, and homeschools in the Southern California area. He has created experiences for The Girl Scouts of America, Sanrio, Inc., the San Diego Public Library, the Paul Biane Library, Green Dot Charter Schools, New Roads School/Gamedesk, UCLA Game Lab, Texas State University, Creative Crisis Leadership, Guardian Adventures plus initiated and co-designed The Anywear Academy with UC Santa Cruz and funded by a $1.2 million grant from the National Science Foundation.
Aaron's personal website is here.
Kirsten has been writing and running larps, rpgs and immersive theater events since 1999. Her most formative early moment as an experience creator was walking through an event she designed and realizing at least one person was screaming in every single room–still a career record. Her preferred genres are screwball comedies (Temp Cupid), death (Give Up the Ghost), and screwball comedies about death (Limbo!). Her goal is for everyone to have the best time having a terrible time.